Not to be confused for YoYoJoker, a similarly-named company.
Yoyojoca is a Brazilian yo-yo manufacturer that produces all aluminium yo-yos. Launched in 2004 by Joca, the first Yoyojoca prototype was available exclusively at the Brazilian National Championships in 2004. It has released one yo-yo series, which is made up of the Aluminium, the GIII, the G4, the GV, the G-Six and the G-Seven.
Yo-yos produced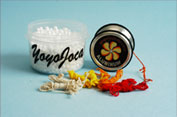 Aluminium
GIII
GV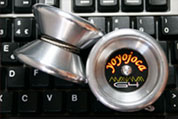 G4
G-Six

G-Seven
Ad blocker interference detected!
Wikia is a free-to-use site that makes money from advertising. We have a modified experience for viewers using ad blockers

Wikia is not accessible if you've made further modifications. Remove the custom ad blocker rule(s) and the page will load as expected.