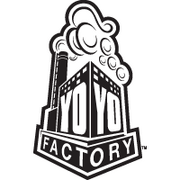 YoYoFactory (often abbreviated as YYF for short) is a yo-yo manufacturer that was founded by Benjamin "Benny" McPhee and Hans "YoHans" Van Dan Elzen after the assets of Playmaxx were bought out by Duncan Toys. The first yo-yo made by the company was the F.A.S.T. 201. F.A.S.T. is an acronym for "Fully Adjustable Starburst Technology" which meant that the 201 made use of adjustable teeth that acted as starbursts and allowed you to change how responsively the yo-yo plays. After securing a distribution contract with Hasbro for the F.A.S.T. 201, the YoYoFactory Contest Team was started, and competitions around the world in the form of the F.A.S.T. Challenge were launched. YoYoFactory tries to keep its products fresh and at the forefront of yo-yo design, launching new lines of advanced metal yo-yos such as the F.A.S.T. 401k while continuing to produce plastic yo-yos like the FlyMaster and Spinstar.
In 2003, YoYoFactory began "Project Red Alert" (formerly known as the Redline Series): a series of unconventional and experimental yo-yos produced in small batches for the purpose of trying out new ideas and getting feedback from players. Of these, the 888 was the most successful. In 2009, YoYoFactory began its "Fundametal Line". This new line aims to provide high-quality metal yo-yos at a price around $65 or less as a more economical alternative to the average $80+ price of metals today.
Yo-Yos Produced
F.A.S.T. Series
Project Red Alert
Revolution #9 (Never released, redesigned as the Nine Dragons)
Premium Collection
FundaMetal Line
Evolution Series
Signature Series
Special Edition
Other
Basecamp (collaboration with CLYW)
Spin tops
Acrobat
Throwback
Short Circuit
Elec-Trick
Contest team
External Links
Ad blocker interference detected!
Wikia is a free-to-use site that makes money from advertising. We have a modified experience for viewers using ad blockers

Wikia is not accessible if you've made further modifications. Remove the custom ad blocker rule(s) and the page will load as expected.