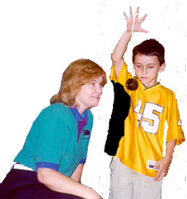 Valerie Oliver nee Larson is Vice President of Spintastics and wife of National Grand Master Dale Oliver. She began yo-yoing at the age of 5, when she and her older brother were under the tutelage of Duncan demonstrator Bob Rule. Valerie first loves are yo-yoing and spin tops, and teaches these on a full-time basis. Since 1995 she has taught the Science of Spin school program to more than 10,000 elementary and middle school students throughout the country. She has been an active member of the American Yo-Yo Association since 1994, holding the position of Secretary of the AYYA from 1997 through 2001. Valerie continues to judge Sport divisions at both World and National competitions annually.
Achievements
1972
Minnesota State Yo-Yo Champion
1995
4th Place World Yo-Yo Championship � Masters Division
1996
3rd Place National Yo-Yo Championship � Level 3
5th Place World Yo-Yo Championship � Masters Division
1997-2001
1998
2nd Place World Yo-Yo Championship - Recreational Division
2001
2002
1st Place National Spin Top Sport Division, Overall Champion
2004
Silver Medalist National Spin Top Championship
Linda Sengpiel Award recipient for excellence in yo-yoing
2006
4th Place Finalist and World Champion Female Top Spinner
External Links
Ad blocker interference detected!
Wikia is a free-to-use site that makes money from advertising. We have a modified experience for viewers using ad blockers

Wikia is not accessible if you've made further modifications. Remove the custom ad blocker rule(s) and the page will load as expected.