The Baby Dert is a micro yo-yo made by Russ Andert in St. Louis. It was the first one of the recent onslaught of Baby yo-yos. The Baby Dert has a diameter of 41 millimeters, a width of 27 millimeters, and weighs 55 grams. The yoyo uses copper/tungsten weight rings to bring it up to this weight. The yo-yo is so named because creator Russell Andert had recently had a child. When the child was born it was a baby and that is why the yo-yo is called the Baby Dert.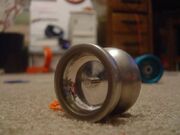 Ad blocker interference detected!
Wikia is a free-to-use site that makes money from advertising. We have a modified experience for viewers using ad blockers

Wikia is not accessible if you've made further modifications. Remove the custom ad blocker rule(s) and the page will load as expected.