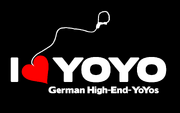 ILoveYoYo (stylized as ILOVEYOYO) (or ILYY for short) was founded in August 2006 by Rage (A.K.A. raytsh), a student of media technology at TU Ilmenau, and Crackout, a student of physics at TU Munich, who also ran the company. The main idea behind this project was to create a yo-yo for themselves that would meet the preferences of both of them. This then developed into a yo-yo manufacturer that sells internationally.
Their first product, the E1NS was not intended for public release, but after positive feedback at the 2007 GYYA Eastercamp, a batch of 60 yo-yos was released on June 29th, 2007. 34 of them sold out in a matter of 10 minutes causing server crash at Yoyonation.
On December 18th, 2008, ILYY has released 2 other new yo-yos, the Mary which is raytsh's signature yo-yo and the Wasabi, which is Crackout's. Then came the Noctu, which was still in prototyping stage at the time, and the E1NS.1, which is an improved version of the E1NS. In addition to that, there was the E1NS PURE, which was a prototype that was super heavy.
ILYY doesn't keep the profit for themselves, but instead they are giving it back to the community by sponsoring upcoming players and events such as the German Masters and the U.K. Nationals, or investing into new technologies, such as different coatings and bearing seats as seen in the earliest prototypes of the Noctu.
Yo-Yos
2WEI
Sakura
Sakura SE (ILYY x One Drop collaboration)
Valve
Verve
Trvth
Lynx
Greyhound
Torino
Enigma
External Link
Ad blocker interference detected!
Wikia is a free-to-use site that makes money from advertising. We have a modified experience for viewers using ad blockers

Wikia is not accessible if you've made further modifications. Remove the custom ad blocker rule(s) and the page will load as expected.