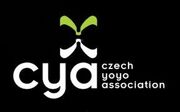 The Czech Yo-Yo Association (CYA for short), is based in the Czech Republic. It was founded in 2005 and it currently organizes the Czech YoYo Nationals, the Czech YoYo Cup and many other yo-yo events. It was the organizer of the 2007 European Yo-Yo Meeting, and host for the 2014 World Yo-Yo Contest. Its main goal is to amplify yo-yo knowledge and look for new yo-yo players.
Contact
Organized Events
External link
Ad blocker interference detected!
Wikia is a free-to-use site that makes money from advertising. We have a modified experience for viewers using ad blockers

Wikia is not accessible if you've made further modifications. Remove the custom ad blocker rule(s) and the page will load as expected.