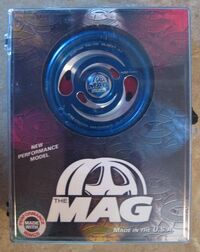 Custom Products
(formerly known as
Custom Yo-Yo
) is a manufacturer of aluminum yo-yos based in Gilbert, Arizona. Most of their yo-yos had been in existence since the late 1990s, and as such, it doesn't compete directly with the manufacturers of other modern high-end metal yo-yos. In recent years, Custom had expanded their product line, also having become active in the paintball industry.
In the height of the yo-yo boom in the late 1990's, Custom was sued by Playmaxx/Proyo for infringing upon the Brake Pad patent. The alledgedly infringing system was developed by Eric Wolff, who had modified a fixed axle Reactor into a ball bearing axle yo-yo with response pads made from a Rubbermaid no-slip bathtub tread strip. Eric's design was incorporated into the Modified-shaped Chain Reactor, and eventually, all of Custom's ball bearing yo-yos.
After a judge ruled against Custom, they reached a settlement with Playmaxx agreeing to redesign their Performance Ring pads.
The Playmaxx Cold Fusion was actually manufactured by Custom for Playmaxx, and all Cold Fusion parts both finished and unfinished had to be turned over to Playmaxx as part of the settlement. It was these Cold Fusion parts that were acquired by Duncan when it purchased Playmaxx and once this supply of parts was exhausted, the Cold Fusion was discontinued by Duncan.
Yo-yos Produced
External Links
Ad blocker interference detected!
Wikia is a free-to-use site that makes money from advertising. We have a modified experience for viewers using ad blockers

Wikia is not accessible if you've made further modifications. Remove the custom ad blocker rule(s) and the page will load as expected.